Table of Contents
CriCut
CriCut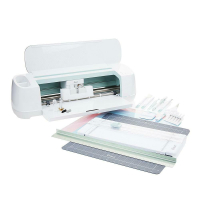 Tool Type: CNC
Location: Innovation Workshop
Description: CNC paper cutter. Can also be used with other thin, flexible substrates.
Manufacturer: CriCut
---
About
The Cricut is a 2D paper cutter capable of cutting out precise designs with high accuracy. Capable of cutting thin plastics, vinyl, cardstock, paper, and a whole lot else the Cricut is hooked up to the Carbide computer on the window sill in the Innovation Workshop. A thin layer of material is attached to the sticky mat and fed through the Cricut, which cuts out any 2D shape desired.
---
Safety Concerns
The Cricut uses a shielded razorblade to make cuts on the sticky mat. Care should be taken when replacing of switching the cutting head as it is incredibly sharp. Fingers should also be kept clear of the rollers when CriCut is operating.
---
Operating Procedures
Launch CriCut software from carbide computer

Open a new design space

Upload a .PDF image, .DXF flat pattern, or use Cricut's design space to create a 2D design

PDF images must have their backgrounds removed and the parts the user wishes to cut isolated by using the click to erase function which removes parts of the image based on color

Click and drag objects to scale or position in the design space

Remove the protective covering from the adhesive mats and carefully lay material to be cut as flat and uniformed as possible down on the adhesive layer

Load the mat using the double arrows on the CriCut

Follow instructions on Carbide computer, press the CriCut button to start cut

Press unload button to remover mat from Cricut
---
Detailed Specifications
Mat size: 12" x 12"

Materials allowed:

Cardstock

Chipboard <2mm

construction paper

corrugated cardboard

poster board

foil embossed

metallic paper

wax paper

max material length 2 ft
---
Reference Documentation
cricut.txt · Last modified: 2023/01/06 01:06 by haley
---